The Butters Aliens
The Sunflower Lounge, Birmingham.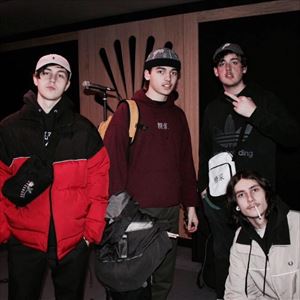 More information about The Butters Aliens tickets
The Future Sound Project
returns with another bill pack full of talent.
The Butters Aliens
- The Butters Aliens (TBA). Are an underground, lively and energetic punk band from Birmingham.
https://instagram.com/thebuttersaliens?igshid=13eaeisw3dgm6
https://soundcloud.com/user-962957102/the-butters-aliens-wheres-ben
The Underclass
- The Underclass - A 5 piece band from Stoke on Trent, with Jorge (Vocals), Matt (Lead guitarist), Dillan (Rhythm guitarist), Aaron (bass) and Adam (drums). We've been playing together since December 2018, and our debut single Yesterday's People is out on 14.6.19 (See attaches) . We've already played at some brilliant venues such as the Cavern Club (Liverpool), the Sunflower Lounge (Birmingham) and the Underground (Stoke).
The Earnest Spears
- Known for amazing live atmosphere, The Earnest Spears return to the Sunflower Lounge in what's sure to be another banger. The Earnest boys come from sleepy Worcestershire and do not disappoint in terms of rawness and energy. The new era of punk is alive and strong and shows this off with their original material. You do not want to miss this.
Spacetoast
- Spacetoast are a Leicestershire-based 4 piece band. They fuse punk guitar sounds with early indie style riffs and grungy, gritty vocals.
"College noisemakers that I'm glad I got to hear.. they could be your new favourite thing.." (Soundwaves zine)
"local bands that are smashing it right now are We Give In, Jnctre, Easy Life, Spacetoast….." (The Shed, live music venue Leicester)
"Spacetoast is the band we didn't know we needed. Dan Hewitt (vocals/guitar), Matt Roulstone (bass), Eleanor Sanders (guitar) and Joe Hewitt (drums) bought together the rawness of punk and laid-back, grungy arrogance lightened up with the lively indie riffs to shake the crowd to the core." (http://www.musicinleicester.co.uk – online review)
Web: http://www.spacetoast.uk/
Spotify: https://open.spotify.com/artist/5gpyB9JdkKEFjzXFVM8L9C
Instragram: https://www.instagram.com/spacetoast.band/
The Lightweights
- A Worcestershire based Indie band that perform both covers and originals, packed full of catchy melodies, powerful instrumentals and meaningful lyrics! For fans of Arctic Monkeys, The Libertines, Oasis.
https://www.facebook.com/TheLightweightsBand/
https://www.instagram.com/thelightweightsband/
https://thelightweightsband.bandcamp.com/releases